Our Equipment
Some of our customers like to know a little more about the equipment we use. Although everyone agrees that the result is what counts, we are proud of our equipment as well!
We use a variety of equipment in our facility including:
HEIDELBERG QMDI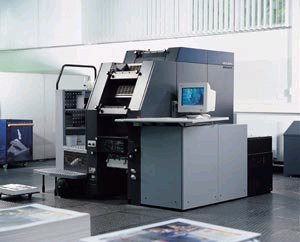 This impressive digital 4 color offset printing press is capable of running a sheet size up to 13" x 18".


HEIDELBERG QM 46-2
TwoColor Press


This 2 color press is a rock solid printing press. It's excellent registration and coverage capabilities ensure the best quality product. Maximum sheet size is 12" x 18".
Konica Minolta c6501 Digital Color Press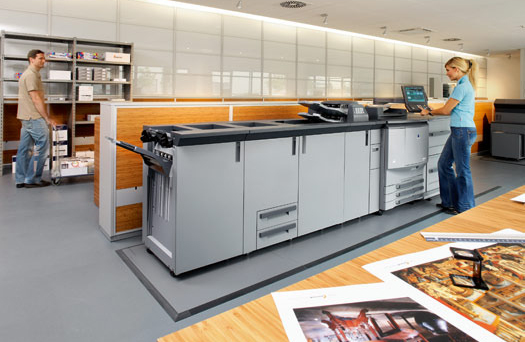 Our newest addition to our arsenal of state-of-the-art equipment is our Konica Minolta c6501 Digital Color Press. Boasting capabilities comparable to a conventional four color press, this machine will print in vivid full color as large as 13" x 19". This production level printer will print up to 65 sheets per minute with no set up or dry time normally necessary with a printing press. The quality is amazing!
Xerox Nuvera 120 Printer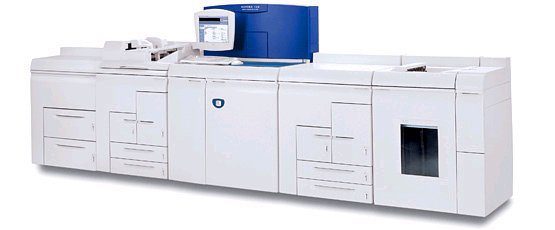 This high speed production digital monochrome (black & white) printer is capable of running a sheet size up to
11" x 17", and is rated at up to 120 prints per minute.
Make Your Projects Look Their Best With Atomic Graphics Finishing Services
It doesn't take much to go the extra mile and finish your document to create that professional "look and feel" that your competition may be overlooking. Atomic Graphics can laminate, cut, fold, hole punch and staple your projects to create that perfect finished product. We can also guide you through choosing the perfect finishing touches if you're just not sure what you want.
Take advantage of Atomic Graphics full line of finishing services to create a one-of-a-kind document that illustrates your commitment to quality and professionalism. Our finishing services make it efficient and easy for you to produce professional looking newsletters, presentations and other business documents.
Binding

From booklets to presentations, Atomic Graphics can meet your binding needs. We offer booklet stitching, comb binding, and plastic spiral binding in a variety of popular colors. Need help choosing the right binding option? Atomic Graphics staff can help you make the right decision for your project.
Laminating
Lamination is a surefire way to protect your important documents. It makes them more durable, ensuring that they will stand the test of time. Whether you want to protect an outdoor sign from fading or strengthen and protect your business cards, luggage tags and report covers, Atomic Graphics is the place to go for all your lamination needs.

Other Finishing Services

Our print and finishing services are high
quality, fast and affordable, and our staff is always available to help choose the finishing options to ensure your projects look the best they can. In addition to laminating and binding we offer the following finishing services:
• Cutting
• Folding
• Scoring
• Collating
• Hole Drilling
• Tabbing
• Perforating
• Numbering
• Stapling
• Booklet Stitching
• Die Cutting
• Padding
• Custom Tabs
• Shrink-wrapping
• Specialty Papers
• Mailing Services
• Foil Stamping
• Embossing
At Atomic Graphics we realize that there are many different file types and platforms that our customers may use. We have to adapt to our customers needs, not our customers adapting to us. We strive to stay up-to-date on the latest software titles. Listed below are some of the software titles we use on both PC and MAC platforms:
• Adobe Acrobat - PDF
• Adobe InDesign
• Adobe Illustrator
• Adobe Photoshop
• Microsoft Office - Word, Excel, Power Point, etc...
• Microsoft Publisher
• Quark Xpress
• Freehand
Our prepress staff has over 15 years of experience in printing and preflight of documents to ensure the best quality possible. When possible we do prefer a PDF document, and images be at least 300 DPI, for maximum quality and a hassle free workflow. This insures that we are able to print your document in a timely manner. However, our experience has trained us to be on the lookout for document errors that can arise, and prepared us to be able to address most issues that can occur.